On a night when the Washington Nationals officially celebrated the new ownership of the franchise, the new owners sought to please fans accustomed to a last-place team and a dreadful stadium. They treated fans to many new gimmicks including an actual red carpet, live music in front of RFK Stadium, and overhauled concessions. The one thing that seemed to please the most, however, was the play of the team. The Nats stormed back against the Chicago Cubs and sealed the exciting win in front of a massive crowd, sending fans home happy with a 7 - 6 come-from-behind victory.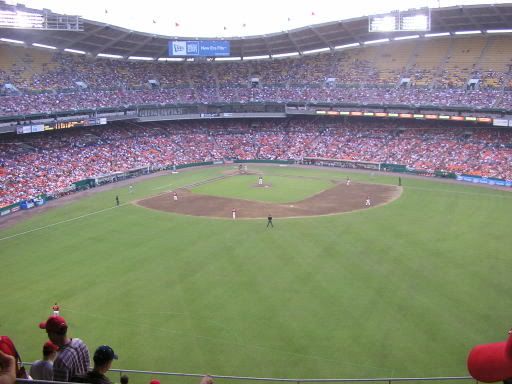 View from Section 545, row 3, seat 6.

The Nationals relinquished the lead to the Cubbies on a two-run homer by Aramis Ramirez, and then squandered a bases-loaded situation in the bottom of the 7th inning. In the 8th, however, the Nats took the lead for good on a two-run double by Alex Escobar.

The new owners emplore the fans to "paint the town red" for the entire weekend, with giveaways including hats, t-shirts, and towels scheduled for all three home games against Chicago.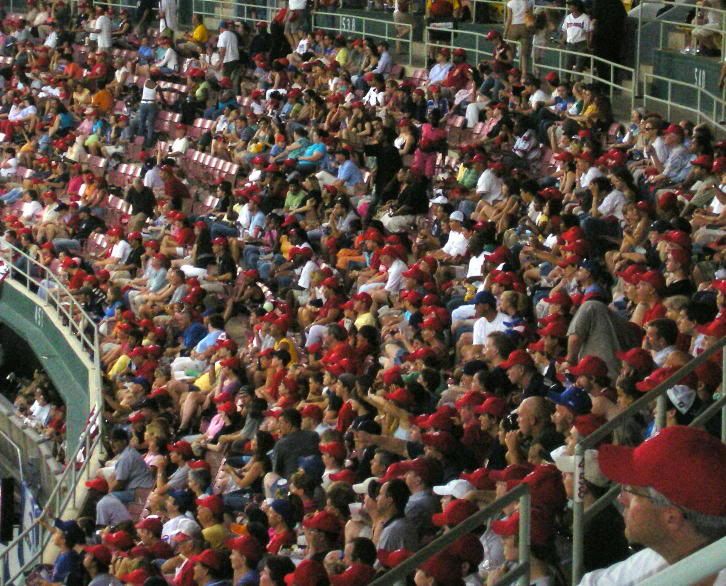 Paint his town red, paint his wife white.

One thing that really surprised me was the audacity of the Chicago Cubs fans. Rather then embody the "loveable loser" mentality of the team, the fans went for the "drunken asshole" vibe made popular by New York Yankee fans. The one difference between the two is, oh I don't know, 24 World Series championships.
I'll never understand the popularity of the Cubs. They're easily in the top-5 most popular MLB teams, and they're horrible. Almost always have been. They've won ONE play-off series in the last 98 years. Why do I have to pay for premium seats to see a team that's historically terrible and currently 21 games under .500?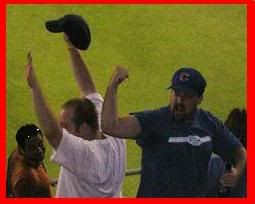 Cubs fans are douchebags.
The new amenities are neat. The entire atmosphere has changed drastically from the first half of the season, and the fans reacted accordingly. One of my friends sarcastically asked as we walked to our seats, "Are we in D.C. or is this St. Louis?" My favorite change was taking the President's Race off the Jumbotron and onto the field. Similar to the race in Milwaukee, four oversized cartoon Presidents raced to a finish line behind home plate. George Washington took the victory in the inaugural live-action race, overcoming an early lead by Abe Lincoln. Good times.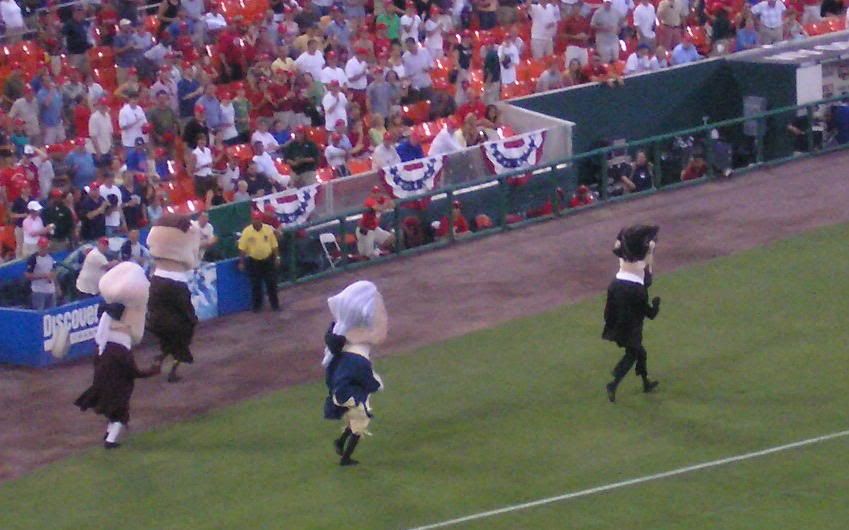 New live-action President's Race. Fan-tastic.