23 years ago the Hoyas brought the NCAA Championship to Washington, D.C. This year they have the best shot to bring home the title since the heyday of Hoya Paranoia. They are a trendy pick to make the Final Four, but can they win it all?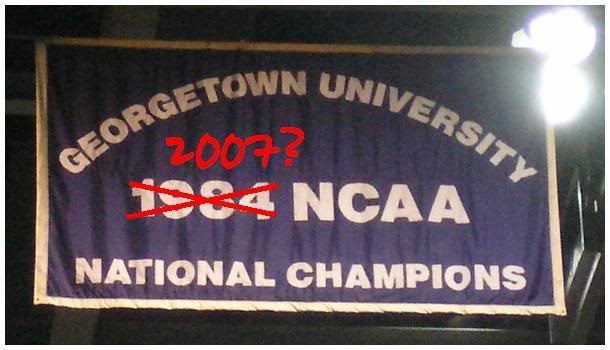 The Hoyas are capable of complete domination. There are other teams capable of domination (Ohio State, Florida, Texas), but not to the extent of Georgetown. They could realistically steam roll their way to the National Championship.
Jeff Green is a machine. Roy Hibbert is a monster. John Thompson III is a genius. This does not bode well for the 63* other teams in the tournament.
When clicking on all cylinders (late January-now) they have been a force to be reckoned with. Despite a hiccup against Syracuse, they have been straight killing teams, winning 15 of 16. In those 15 wins, all against Big East opponents, they've won by an average of almost 13 points.
The Georgetown Hoyas can win it all for three reasons:
The experience.
They made it to the Sweet 16 last year, giving eventual champion Florida their toughest test by far. Jeff Green and Roy Hibbert know how to get this done. A tough Big East regular season and tournament also prepared them well.
The offense.
JT III employs an offense that is Georgetown's biggest tournament strength. There are very few other teams in D-1 NCAA that play the Princeton-style offense (G'Town, Princeton, Air Force, anyone else?). If their opponents haven't seen it, they could get swamped. Sure, other Big East teams have figured it out, but most of them are on the other side of the bracket (Pitt, Notre Dame, Villanova) and unlikely to make it the Finals. Speaking of which, another strength for the Hoyas is...
The seed.
On the downside, Georgetown got stuck with North Carolina and Texas in the same region. Fortunately, they'd only need to go through one of them to make it to the Final Four. Also on the bright side, the #3 Seed in the East, Washington State, isn't nearly as threatening as the other #3 seeds, Oregon, Pittsburgh, and Texas A&M. I think they have a clear shot at the Elite 8 before a real challenger steps into the picture. Also, the East Regionals are in East Rutherford, a loooong ways away from North Carolina or Texas.
However, despite the potential, flaws still exist.
The backcourt.
DaJuan Summers and Jeremiah Rivers are freshmen. Jessie Sapp is a sophomore. Let that sink in. Young point guards can get trounced by experienced PGs, especially in the first two rounds.
The inevitable.
All teams face adversity at some point in the tournament. The Hoyas will, too. Roy Hibbert is hit-or-miss offensively. It's hard for him to do nothing on the defensive end (he's 7'2" for crying out loud!), but if he gets in early foul trouble it could be lights out, especially against UNC or Texas. Hibbert needs to stay in the game and contain Tyler Hansbrough and Kevin Durant. The Hoyas can withstand a bad offensive night from Hibbert, but if he's not clogging up the paint they're not going far.
All things considered, the Hoyas have a fantastic chance to dance all the way to the Final Four. If they get past either UNC or Texas, their toughest possible challenge in my opinion, they have a great shot of winning it all. The only team I see as flat-out better than Georgetown is Florida. Any other match up, on paper, favors the Hoyas. Which is why, if they make it to Atlanta, the Hoyas should be cutting down the nets.
____
* I know damn well there are 64 other teams in the tournament. However, it is straight bullshit to claim that both Florida A&M and Niagara are in the tournament. Only the winner of the play-in game is truly "dancing". This is so egregious because it's easily fixable. ELIMINATE THE PLAY-IN GAME. Florida A&M and Niagara are CHAMPIONS. (Especially Niagara, they got hosed. The MAAC is better than that.) They both deserve to be in the field of 64. Who cares if there is one less at-large spot? If anything, the play-in game should be between two at-large teams. In this year's case, I think Arkansas vs. Old Dominion would be a much more sensible and TV friendly matchup.