DC United
kicks off it's 2007 campaign tonight with a match against
CD Olimpia
as part of the opening round in the
CONCACAF Champions' Cup
. The Champions' Cup is a competition with the best North American, Central American and Caribbean teams. The winner is entered into FIFA's Club World Cup, which isn't nearly as important as it sounds, but still would be a huge deal if an American team advanced.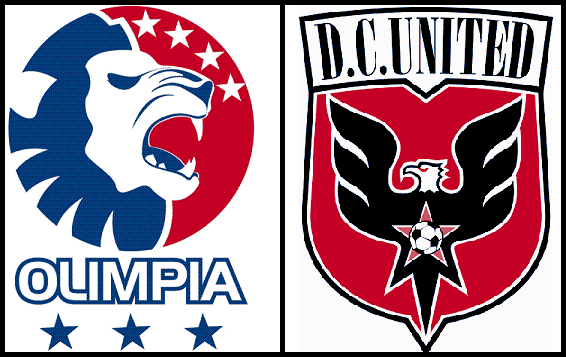 CD Olimpia (HONDURAS) vs. DC United (UNITED STATES)
Club Deportivo Olimpia is a storied team in the top flight Honduran League. "Los Leones" have won the league 20 times. They won the CONCACAF Champions' Cup in 1972 and 1988.
This match is a great way for DC to continue it's storied (albeit short) tradition. In just 11 years, the Red-and-Black have won 10 national and international trophies, including this CONCACAF Championship back in 1998. They are one of just two American teams to win the competition (
Los Angeles Galaxy
won it in 2000.) DC is looking to add yet another trophy to their crowded case.
This is DC's 7th time participating in CONCACAF Champions' Cup, more than any other MLS team. United earned the right to play for this competition by winning the MLS Supporters Shield in 2006.
Houston Dynamo
, the other MLS representative, also gained entry in the tournament by winning MLS Cup 2006.
There are a few aspects to look for in tonight's matchup:

1.) DC United has a new coach, Tom Soehn. He is replacing Peter Nowak who went on to become an assistant coach for the US Men's National Team.
2.)DC will be without past starters Alecko Eskandarian (traded to Toronto) and Freddy Adu (traded to Real Salt Lake).
3.)Brazilian striker Luciano Emilio signed with DC during the offseason. In a very interesting twist, he will play his first game in Black against his old team, CD Olimpia.

The series is home/away aggregate goal and the return leg will be played at RFK Stadium on March 1st. The tournament bracket is set up so that the winner of this series will play the winner of the CD Chivas de Guadalajara (MEXICO)/W Connection (TRINIDAD & TOBAGO) series in mid-March.