Tomorrow night marks a non-league meeting between
D.C. United
and
Red Bull New York
aka
New York Red Bulls
aka
MetroStars
aka
NY/NJ MetroStars
or whatever the hell they're called this week. The winner of the match advances to the semifinals of the
U.S. Open Cup
.
These two teams have sparked a bit of a rivalry, as they compete for the
Atlantic Cup
. United has won three of the four competitions and hold the lead in 2006. This season, the
Black-and-Red
hold a 1-0-2 record with the Red Bulls. Although this particular match will not count towards the competition, expect tempers to flare regardless.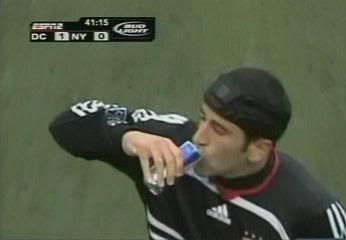 Earlier this season, D.C. United's
Alecko Eskandarian
(
YouTube highlight vid
) celebrated a goal against the Red Bulls by taking a big swig of the Red Bull energy drink . . . and then spiting it out disgustedly on national television. Also, the company that owns the Red Bulls and the Red Bull eneregy drink,
Anschutz Energy Group
, paid for over 800 fans to travel for free to Washington, D.C. to see the two teams compete. This didn't sit well with D.C. supporters and there were
reported incidents after the game in the parking lots
.
Finally, this game marks
Bruce Arena
's first visit back to
RFK Stadium
as a visiting coach. He led D.C. United to three
MLS Cups
, winning two and losing one, in his three years as head coach from 1996-1998. After his run with the
U.S Men's National Team
, he took the job as Red Bull's head coach. It'll be interesting to see how
Barra Brava
and the
Screaming Eagles
great him.
I fully expect D.C. to turn things around after their little slide of three straight ties. Since this game is for a knock-out tournament, one team is guaranteed to win, and everything looks to be in D.C.'s favor. A loss to the Red Bulls would be disasterous.